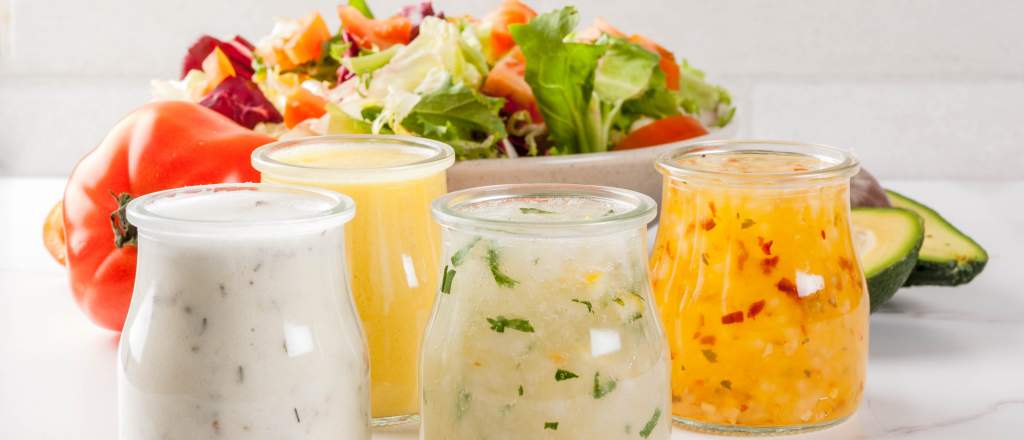 Looking to see what options of 5+1 Plan Salad Dressingthe are approved?
We've pulled the list specifically provided by 5+1 Plan making it easy to find and read through. The list below contains salad dressings that can be counted as a healthy fat and if you're allowed 1 or 2 TBSP of each type. Please note that often the "serving size" on the label may not match the amount allowed on plan, so be sure to follow the 5+1 Plan guidance there.
Low calorie healthy salad dressings are a must-have for anyone looking to maintain a healthy and balanced diet. They can provide flavor and nutrition to your salads and other dishes, without adding unnecessary calories, sugar, and unhealthy fats. Some of the healthiest salad dressings include those made with vinegar, herbs, and spices, which are low in calories, fat, and sugar.
One of the best ways to ensure you are consuming a low-fat salad dressing is to opt for store-bought options that are specifically labeled as "low-fat" or "fat-free." Brands such as Bolthouse Farms and Wish-Bone offer a wide range of healthy store-bought salad dressings that are low in calories and fat, and are made with high-quality, all-natural ingredients. The dressing list above also includes several low-calorie, healthy dressing options, including their fat-free ranch and balsamic vinaigrette dressings.
Asian salad dressings are another popular option for those looking for low calorie, healthy dressings. These dressings often include ingredients such as soy sauce, rice wine vinegar, ginger, and sesame oil, which provide a unique and delicious flavor while keeping the calorie and fat content low. Some popular Asian salad dressing brands include Kikkoman, Pacific Farms, and Annie Chun's.
Apple cider vinegar is another popular ingredient in low calorie, healthy salad dressings. It provides a tangy and delicious flavor while also offering a variety of health benefits, including improved digestion and weight management. Additionally, apple cider vinegar is low in calories and contains acetic acid, which can help to lower blood sugar levels and promote weight loss.
Finally, ginger dressing is a delicious and healthy option for those looking for a low calorie salad dressing. Ginger has a variety of health benefits, including anti-inflammatory properties and improved digestion. It is also a low calorie ingredient that can add flavor and nutrition to your salads, sandwiches, and even as a dipping sauce. Whether you are looking for a low fat salad dressing, a healthy store bought salad dressing, or a unique and flavorful dressing, ginger dressing is a great option to consider.
Leave a review or comment